What are Bespoke Staircases
Our bespoke staircases are tailored to their surroundings, imbuing home or business properties with a stunning centerpiece. Bespoke stairs are custom made, with parts fully crafted by our team and then assembled on site, as per our drawings. The beauty of bespoke glass stairs is that they can open up a space, inviting people to explore it.
At SUN STUDIO .London, our in-house design and engineer team develop original solutions with your space in mind, because your property should be uniquely yours. We start by taking client specifications into account as we survey and then design the space 1:1 in 3D. When the client is satisfied with the design, we fabricate the parts in our Factory in London, next to our Showroom and Office. All of our parts, including wood, glass and steel, are crafted to perfection under one roof. The craftsmanship in our oak staircases is evident in the sturdy stair treads as well as polished glass balustrades.
Get the SUN STUDIO advantage - choose London's leading bespoke staircase supplier to get expert service and quality guaranteed for less.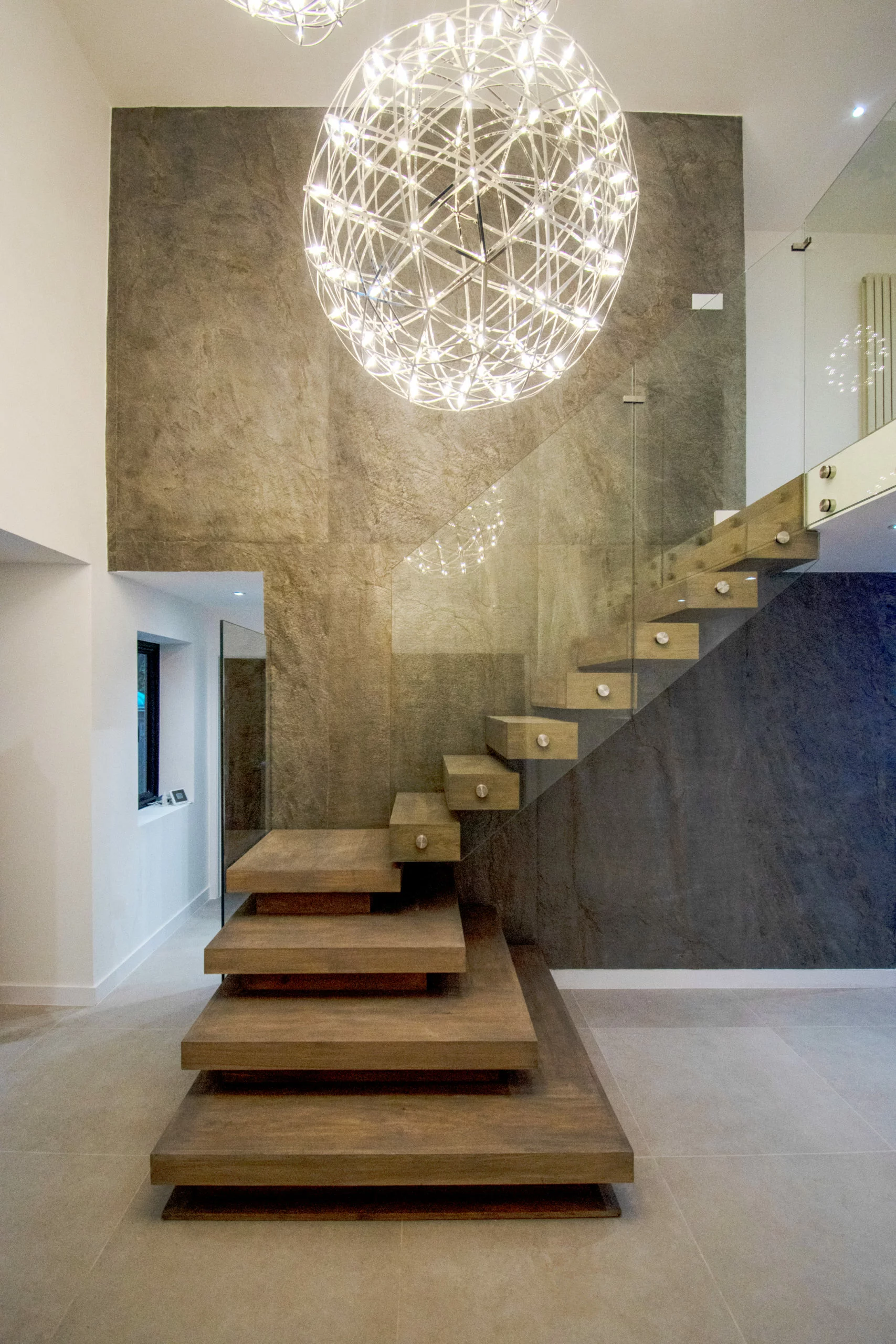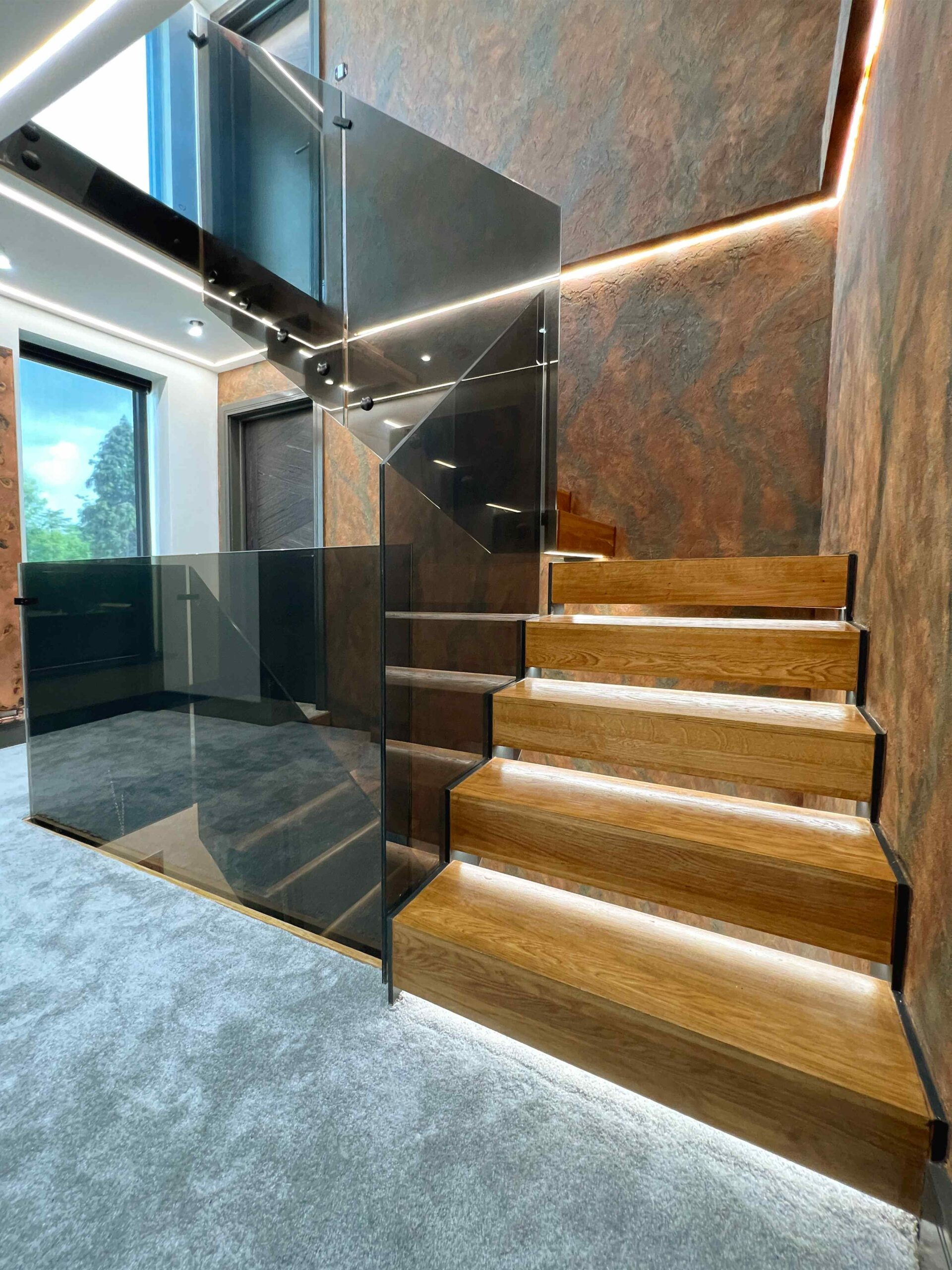 Types of Bespoke Staircases
We offer bespoke staircases in a variety of unique and modern designs. Our modern staircase styles include floating, zig zag, spine and helical staircases in addition to further cantilever and straight stringer staircase varieties. Glass stairs lend a spacious feel to complement their surroundings, allowing rural and industrial properties a welcoming impression. Whether one is looking for simplicity as with cantilevered glass stairs or the bold, Scandinavian-inspired design of zig zag steps, our bespoke staircases can achieve any desired vision.
With glass coming in a variety of finishes, including clear, frosted and tinted glass, both straight and curved glass panels help accent a staircase stringer. Handrails can be fitted on the glass atop these stringers in a wide range of wood or metal shapes and finishes. We also offer metal spindles as an alternative to glass stairs to achieve a more classic look. However, our most exciting staircase design is our flying glass staircase, made of cladded steel treads supported by toughened and laminated glass stringers.
As well, a combination of our designs has fulfilled many of our clients' visions of their stairs to stunning effect. Inclusive of steel steps, bottom-lit treads and marble cladding, bespoke stairs are designed to serve any needs that our clients have.
Benefits of our Bespoke Staircases
By choosing SUN STUDIO as your bespoke staircase supplier, you are getting professional service by industry experts. With a team of engineers, designers, craftspeople and fitters all working together under one roof, we handle projects from start to finish ourselves. Starting with a survey, our engineers ensure that our stairs are made within building regulation.
When designed to a space, you can bring out the full potential of a staircase. The craftsmanship in our oak stair treads and steel step holders achieves this ingenuity. With full autonomy over our production, we are able to ensure every element of a staircase is made to fit. Our parts are quality assured by our team before and after transportation, our clients can rest assured they are receiving a guaranteed quality fitting every time. Whether you need a simple staircase with no more than two flights or a grand sweeping staircase, we will work with you to ensure that your staircase is unique and perfectly suited to your property.
With a wide variety of designs, colours and finishes, you can choose between traditional wood or modern metal treads complementing glass balustrades or steel spindles. Whichever design you choose, you will find bespoke staircases are incredibly versatile, complementing both commercial and residential settings.
We will design and build a staircase perfectly suited to you, because your property should be uniquely yours.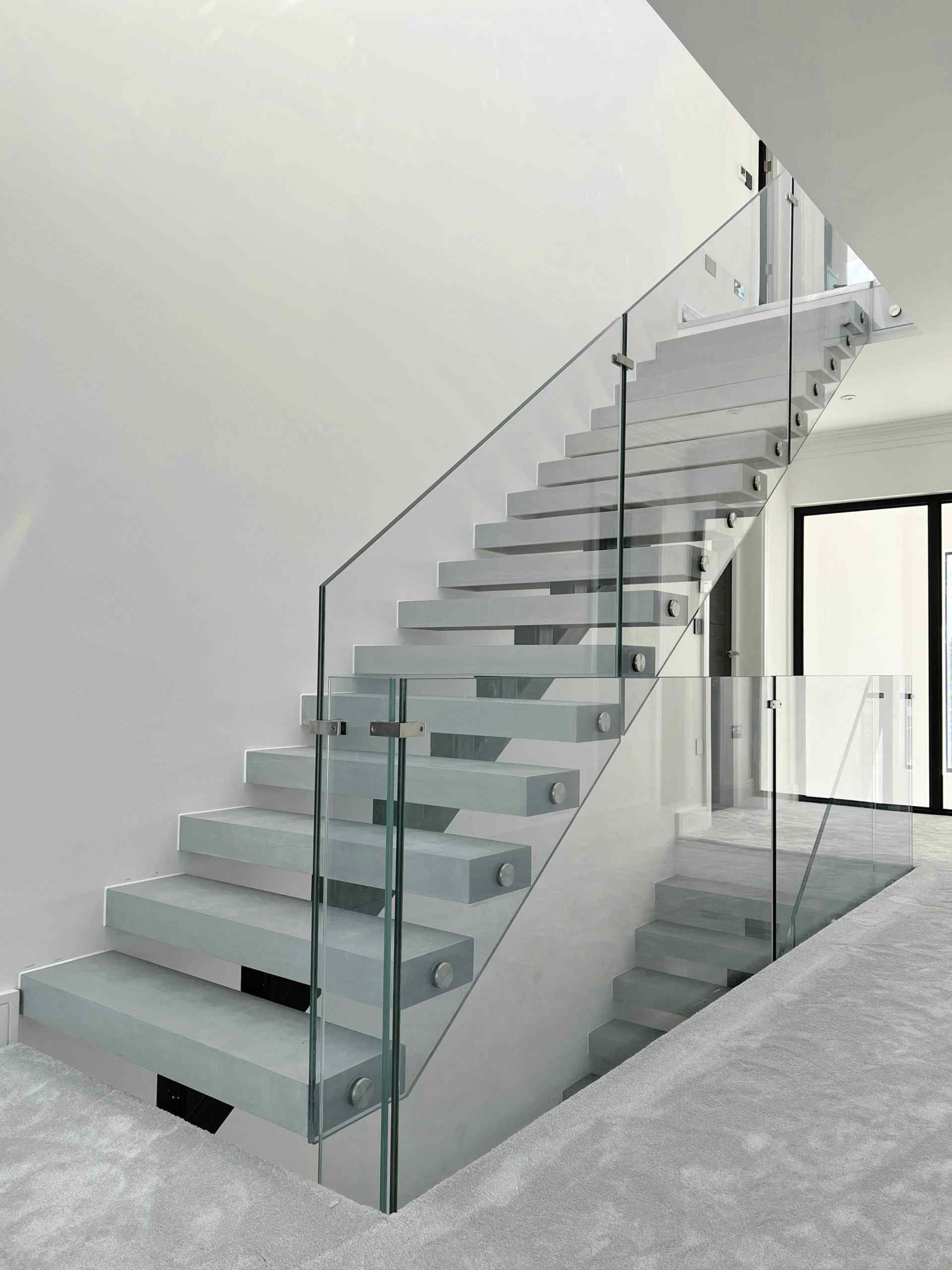 Email us: sales@sunstudio.london
Call us: 020 3916 5610