What are Floating Staircases
Made with ingenuity, floating stairs are cantilever steps that are supported by a steel structure in the wall. True to their name, floating steps hover above the ground, which is ideal for making space and opening up interiors. Our bespoke floating staircase flights consist of a steel stringer with step holders that will hold cladded steps and a balustrade. The balustrade element of our floating steps can be made of either steel spindles or glass panels, both of which are fully customisable to a diverse range of finishes.
The structure can include platforms or winders, which are made to fit the property, in-line with the client's specifications. Open step rises are commonly used to get the most spacious appearance available with the floating staircase, in combination with balustrades, though closed rise steps are also available. As well, step boxes can arrive in a variety of thicknesses. With further customizations such as bottom-lit LED lighting grooves and handrail options, we are able to fulfill any desired appearance. Bespoke options allow out floating staircases to be perfectly suited to any residential or commercial setting. With their practical and simple appearance, floating steps are a versatile and sensible staircase solution. The cantilever steps allow for space beneath that gives way to additions such as an extended glass partition to house a bespoke wine cellar, which we are able to construct too.
Get the SUN STUDIO advantage - choose London's leading bespoke floating staircase supplier to get expert service and quality guaranteed for less.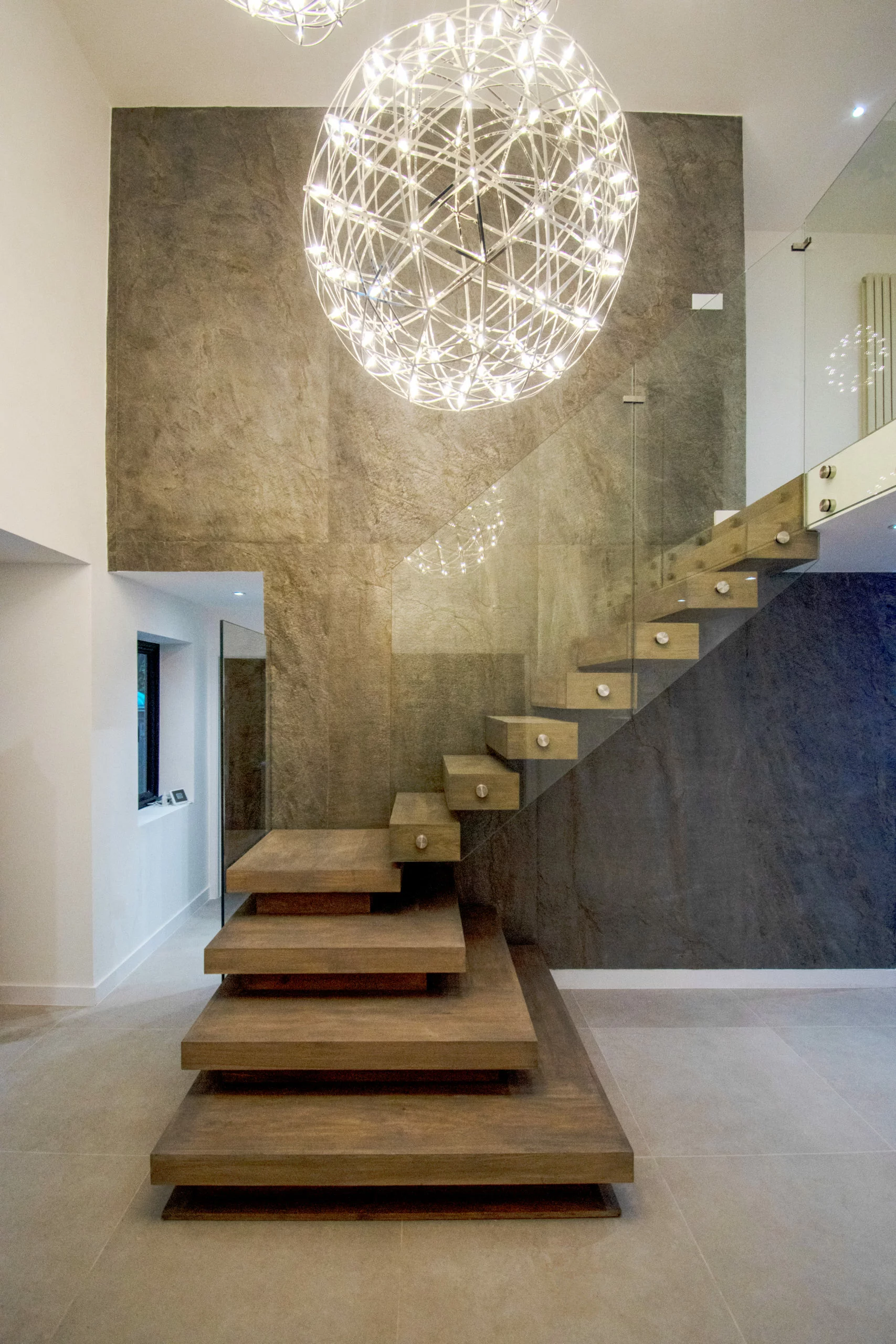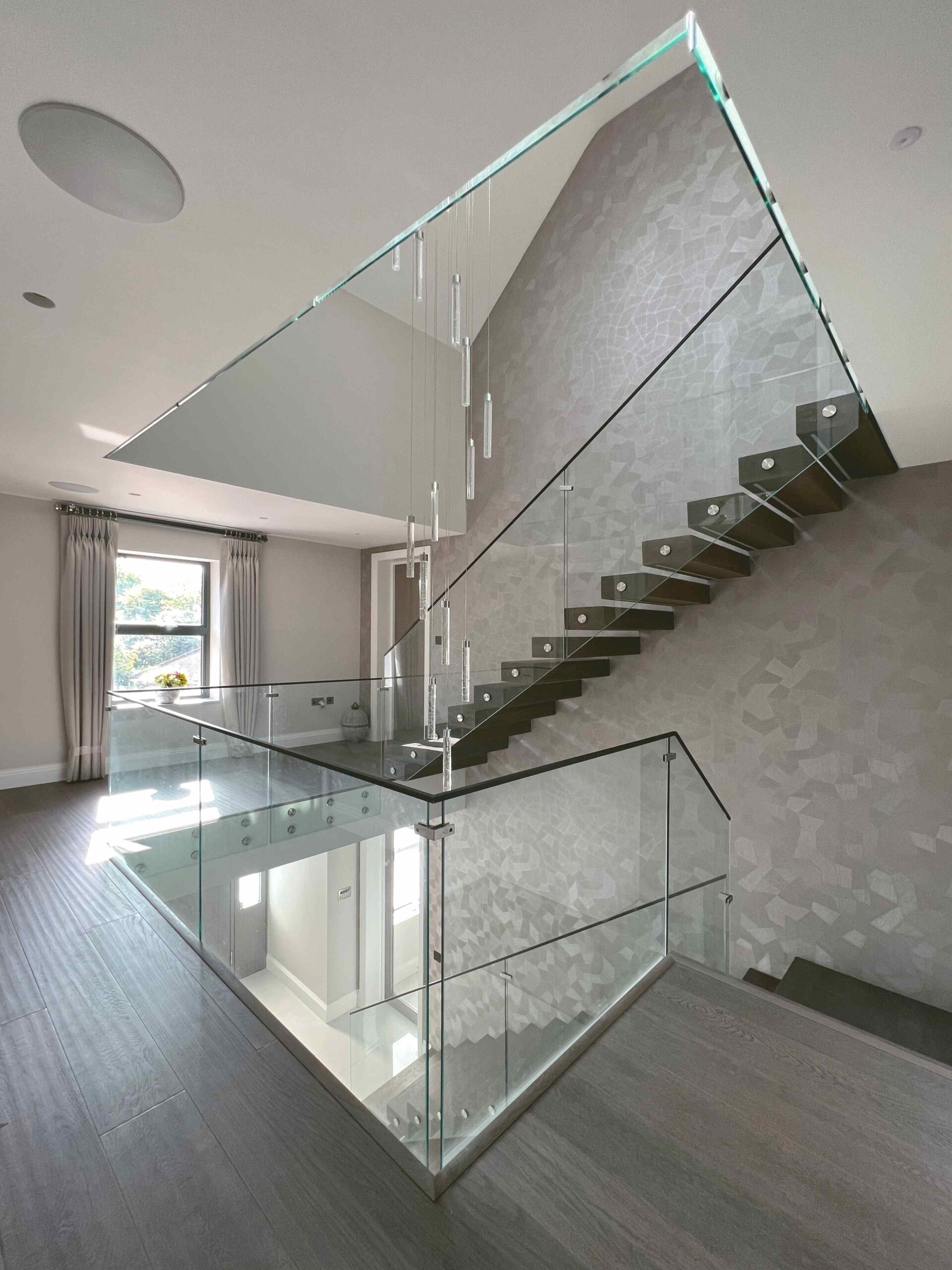 Benefits of our Floating Staircases?
Our bespoke floating staircases are modern designs engineered to precisely match both aesthetic and functional needs. The research and development by our company has refined our practices towards making the most sturdy and finely finished staircases possible. Upon confirming our 1:1 3D drawings made to a laser-precise survey we conduct of the client's site, our engineers supervise our welders in creating the S275 carbon steel frame. This steel stringer structure is then welded securely on site, creating an unbeatable sturdy foundation for the steps. The strong step holders support European grade oak step boxes, crafted by our joiners at our workshop before installation. Finely sanded, painted and varnished, oak steps are comfortable, attractive and complement both glass balustrades and steel stringers.
The ability to fully monitor the material quality assurance and their construction from start to finish ensures the project is truly safe in our hands. The material parts are fully customisable as we work with glass types ranging from clear, tinted, frosted and low iron. We are also able to achieve any bespoke spindle design. We can colour match paints for our oak steps and can powder-coat steel fixings to any RAL colour. For our step cladding, we offer material options ranging from marble or oak to stone or steel.
The variety of step box options can be adjusted in riser height within building regulations.
The open-risers can be combined with horizontal steel rods between their steps to allow for an increased incline allowed within building regulations, adding to floating staircase's benefit of spatial economy. The flexibility of floating steps allows them to be outfitted upon curved walls, which can be topped with curved glass balustrades or a steel spindle system. The possibilities are endless when working with bespoke build solutions.
Why choose Floating Staircases
Floating steps are our most competitively priced staircase option. We are able to offer a full, start to finish, supply and install service at a lower rate than our other staircase options because the steel stringer structure of floating stairs remains covertly hidden. As well, the material saved in the step boxes' open-side construction means savings for our clients. The structure itself deceptively sturdy as elegance is the first thought that comes to mind with the cantilevered steps. The open side of the steps is tied together by its balustrades which provides additional sturdiness and support.
Since the balustrade is held by fixings drilled directly into the internal steel stringer, there is structural support created through this union of elements. In rendering the simple yet compelling illusion of steps coming out of the wall, there is an aesthetic beauty to floating steps that lend themselves well to a diverse range of settings.
A floating staircase is a particularly modern structure that is deceptively sturdy given its hidden steel step holding stringer structure. As such, the steps can becoloured or cladded to match the flooring of the property, allowing for a unifying structure that assuredly takes its space towards a truly 21st century appearance.
As well, floating steps can look as sleek and as modern as any staircase when outfitted with tinted glass, powder coated steel bolts and a complementing step colour. However, floating steps can also look as quaint and comfortable as the homeliest of staircases when either the clear glass or steel spindle balustrades are topped with an oak handrail and the sides of the steps cladded with oak caps which cover any glass-supporting steel bolts. A floating staircase is truly the sensible solution for any property owner looking to add a forward-thinking touch.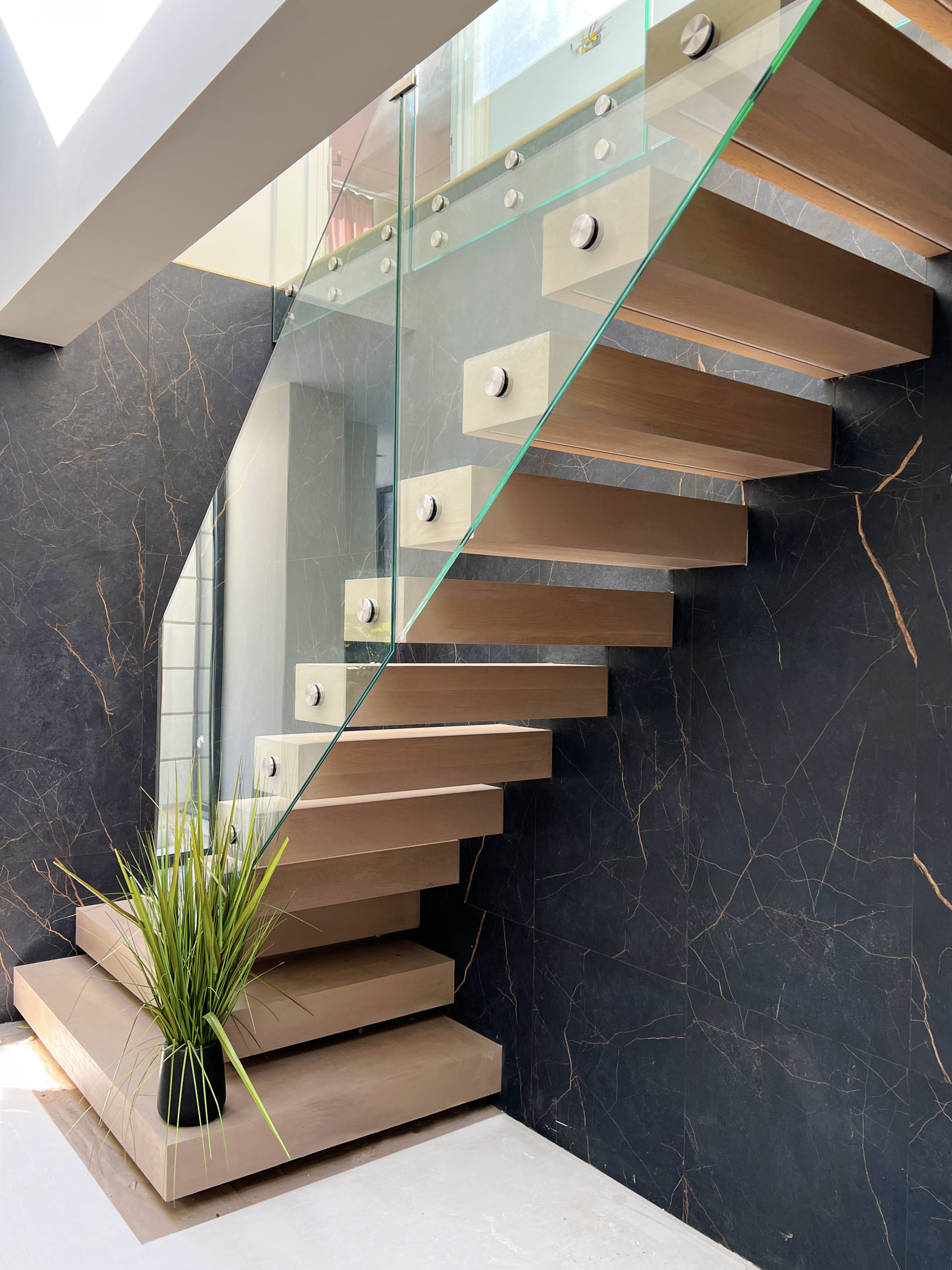 Email us: sales@sunstudio.london
Call us: 020 3916 5610