What are Helical Staircases?
Our most grandiose option, helical staircases, as their name suggests, rise in a helical curve. These steps, also known as spiral staircases, can twist and turn to any bend along their stringers to achieve some truly breathtaking results. Consisting of straight steps or winder steps depending on the depth of the curve, helical stairs are held at their sides by two metal stringers which can either support a metal rod balustrade system or be opened as channels within which curved glass can be slotted. The curved glass balustrades, which can come in clear, tinted, frosted or low iron finishes, can be topped with curved steel or oak handrails. As well, the handrail ends can be crafted to bear any decorative twists as per client specifications.
Requiring precise engineering towards crafting the helical steel stringer, bespoke helical staircases are made to the area in which they are installed. As such, when installed, they arrive at the intended landing points perfectly, fulfilling the design intentions in form and aesthetic when matched with stringer cladding or steel finishing. Given the wide range of claddings offered for spiral steps and stringers, along with bottom plastering and any desired additions, bespoke helical steps are the best staircase solution towards achieving the most opulent staircase appearance.
Get the SUN STUDIO advantage - choose London's leading bespoke zig zag staircase supplier to get expert service and quality guaranteed for less.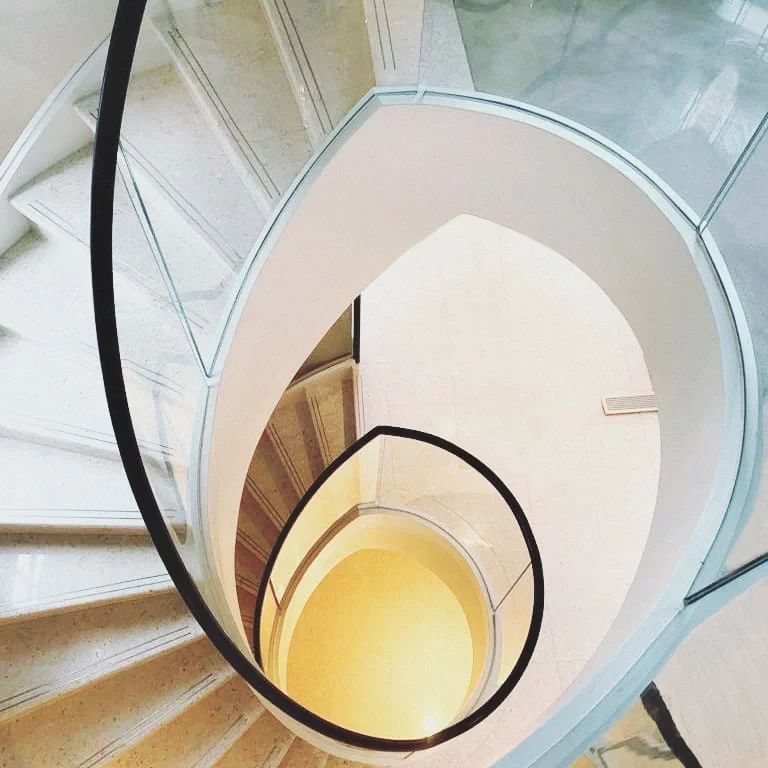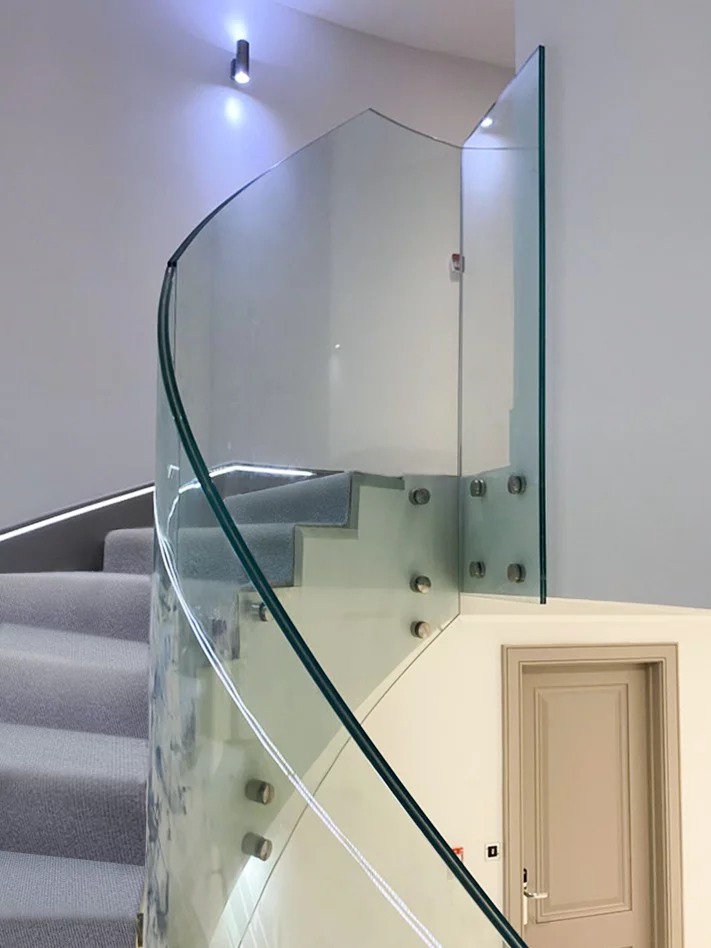 Benefits of our Helical Staircases?
Given the laser precision of the survey conducted at the property ahead of the engineering and subsequent manufacturing of the steel spiral stringer, our bespoke helical staircases are made to fit perfectly to the property. Whether for a residential or commercial property, helical steps are made sturdy with carbon steel curved stringers attached with discrete steel strings within each cladded step. This sort of construction ensures that the spiral staircase being built is one that can remain sturdy, especially when paired with the stringer ends welded to steel floor plates at each end. With a solid construction that is truly built to last, helical steps can be decorated to reflect surroundings ranging from industrial estate to high class manors. While most other bespoke staircase designs pair best with oak steps, helical steps work best as either polished steel surfaces for the former setting or cladded with marble, or any opulent stone tile, for the latter setting.
The winding helical structure presents elegance that is in no way understated. When made to perfection, incorporating step lighting and an elegant curved handrail, helical staircases truly become a marvel of engineering and design. The organic bend of helical steps allows them to feel natural to any given space, with the flow provided in their natural incline and curve feeling functionally comfortable. This lack of rigidity in form makes the unbreakable strength of the helical stringer structure all the more of a technical feat of pairing sturdiness with elegance.
Why choose Helical Staircases?
Bespoke helical staircases represent our most artisanal pieces insofar as they manifest into towering sights to behold. As such, the design possibilities available in choosing a bespoke service for helical steps are boundless and yield truly magnificent results. Exposed steel sections can be powder coated to any RAL colour in addition to being allowed finishes ranging from polished steel to rusted metal. Fixings, from brackets to steel rod slots to even glass balustrade bearing steel bolts, can be finished with brass, gold or matte surface finishing to add texture to the helical staircase's appearance. Especially when winding up several stories, helical steps are unmatched in presenting grandiosity and opulence within a space while, of course, remaining functional.
When designing and installing a structure to the specifications of a property, an expert service handling production from start to finish is the way to go. With full autonomy over our engineering towards our design and build process in-house ahead of installation on site, we guarantee quality with rigorous material surface checks at every stage of production. When fully installed, the helical staircase our clients receive are spotless marvels that they can truly cherish in not only the property value they add but the elevated feeling they give when walking upon such stunning steps.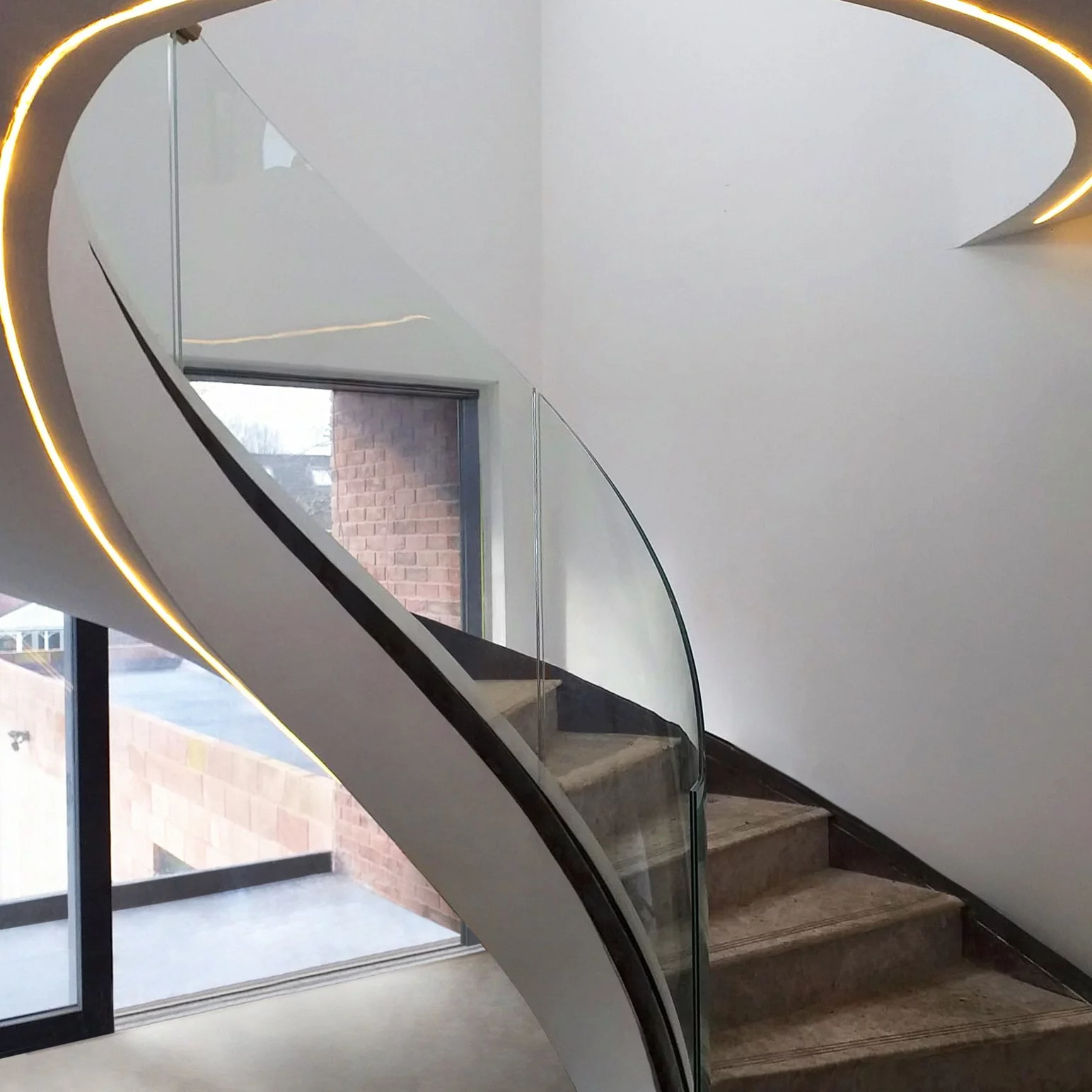 Email us: sales@sunstudio.london
Call us: 020 3916 5610