What are Zig Zag Staircases
Zig Zag staircases, as their namesake suggests, are stairs that bear a zig zag shape in the form of its step-bearing steel stringers. Whether the stringer is finished to a polished or rusted appearance, or topped with further oak side cladding, zig zag steps are bold staircase structures that are distinct and stand out. They can be outfitted with pyramid bases, discrete step cupboards, groove lighting and a variety of additions to add further function to their form. The balustrade element of our zig zag steps can be made of either steel spindle or glass panels, both of which are fully customisable to a diverse range of finishes. The structure can include platforms or winders which fit to the zig zag stringer, in-line with the client's specifications.
Open step risers and closed step risers are equally complementary, the latter naturally following the zig zag form to harmonious effect. The step boxes themselves can arrive in a variety of thicknesses with a variety of step cladding options available. The strength of the steel zig zag stringers allows for the staircase to be either supported with a cantilever structure along a wall or to be a flying structure, with steel strings within the step boxes supported on both ends by zig zag stringers. What sets these steps apart is their distinct design fills a space visually, lending a coyly playful nature to both residential and commercial properties.
Get the SUN STUDIO advantage - choose London's leading bespoke zig zag staircase supplier to get expert service and quality guaranteed for less.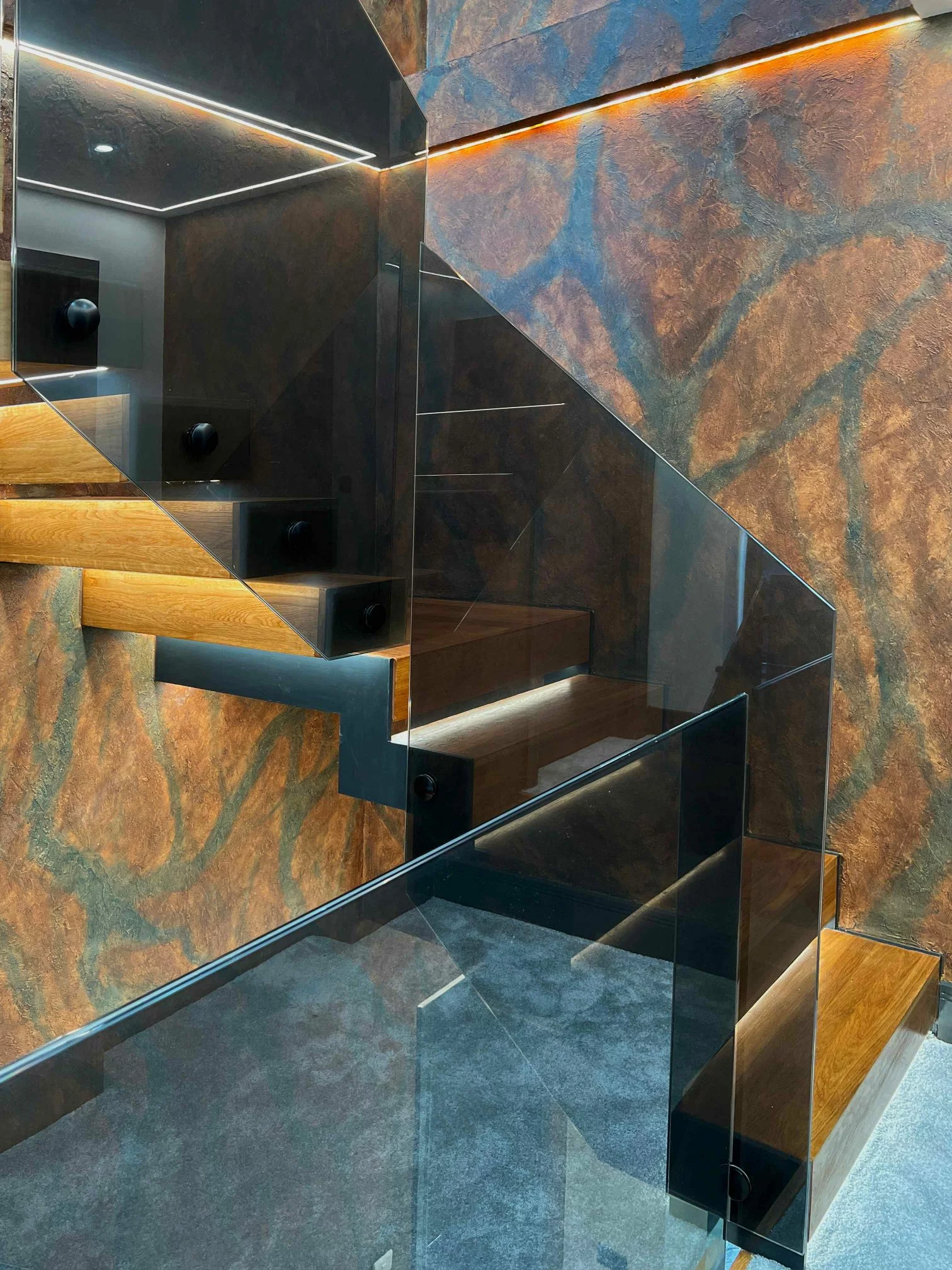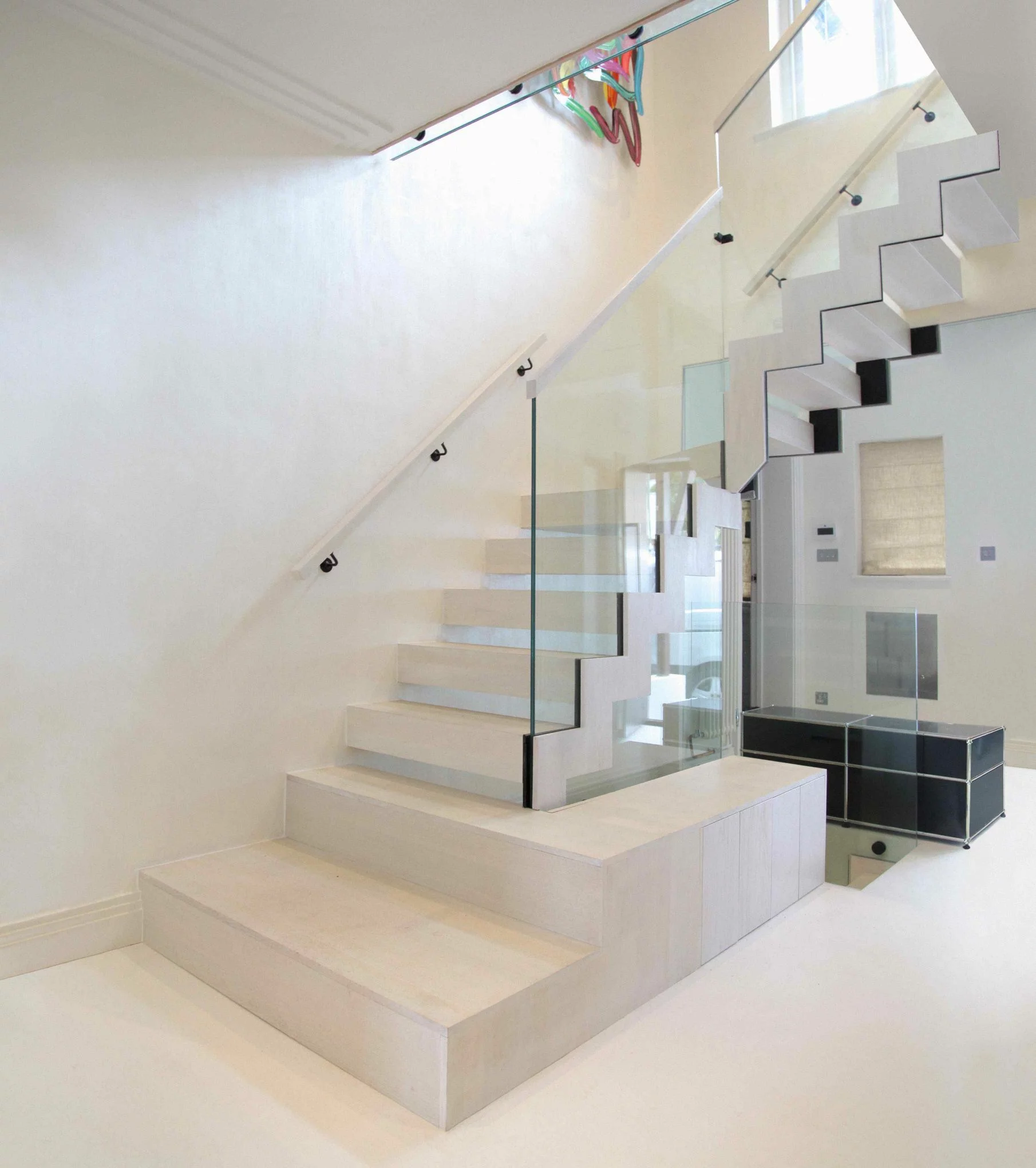 Benefits of our Zig Zag Staircases
The Scandinavian-inspired design of the zig zag staircase bears intent in its design, putting forth a bold statement that announces a modern solution. Compelling in drawing the eye to its unique shape, zig zag steps, more than any other staircase, spell in quotation marks their function through their aesthetic. As the idea of a staircase is communicated by them, so too is a feeling that is both forward-thinking and comfortable, complementary to residential spaces as well as trendy office spaces. Zig zag stringer are flexible in how they can bend and contort to a space, with the structure able to float in the middle of a room and run along walls as a cohesive staircase. The graphic impact of its lines allows for the surround decor to work especially well when creating a 1970s or art deco set up.
Atop the creative visual contrast it calls upon, zig zag stairs are the perfect option for both closed rise steps and glass partitions as balustrades given the inherent discretion their stringers provide. With a beautiful marriage of oak and steel elements, the zig zag structure can both fill the space it is installed within and feel like an extension of the furnishings. The compelling aesthetic is matched with the sturdiness of the laser cut steel stringers which assuredly keep the structure stiff, safe and stable. The wood facets can house expertly crafted additions such as discrete step cupboards, as can be found below.
Why choose Zig Zag Staircases
For homes and workplaces that require a bold staircase that can make itself visible without the need for grandeur, zig zag steps prove a smart solution for any scale. From minimalist to maximalist, the finish of a zig zag stringer, cladded comfortably or polished to a sharp sheen, helps punctuate the desired effect of the space's design. Combined with a versatile range of balustrade and step options, a bespoke zig zag staircase can trustily raise the property value.
Given zig zag steps are largely defined by their namesake stringer, they can be combined with other staircase options to encompass a segment of a flight. Therefore, whether stretching from a step platform to a landing or throughout several flights, bespoke zig zag steps can be a part of a structure rather than the whole. Since bespoke solutions allow for variable materials, the possibilities of what schemes zig zag steps can be integrated into are truly limitless.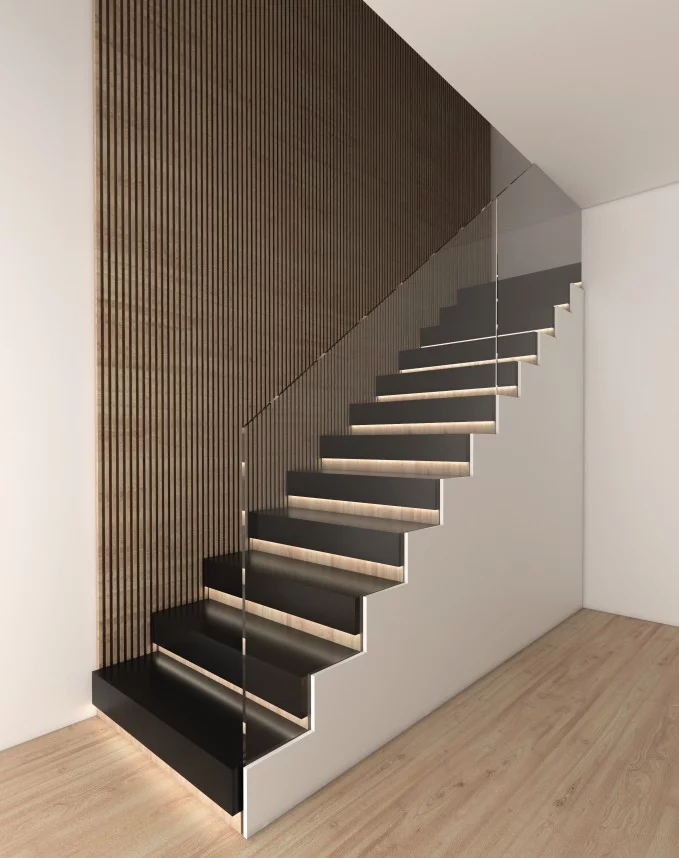 Email us: sales@sunstudio.london
Call us: 020 3916 5610