What are Bespoke Shower Enclosures?
Bespoke glass shower enclosures can come in a wide range of shapes and sizes to fulfill the dimensions of the given space they must occupy. Whether in public areas such as spas or saunas, where an opulent touch is desired, or other commercial spaces such as hotels, be A combination of gold, brass or bronze plated fixings, in either matte or shiny gloss finishes, stringing together glass panels as rods, hinges or door knobs, can assemble together towards stunning enclosures. With the possibility of using a variety of glass materials, from tinted to low-iron to clear glass panels, the marriage of bespoke glass wall cladding with glass partition panels holds great potential.
As with our selection of glass wall cladding and glass partitioning, which includes glass doors, the walls and standing partitions can be fabricated towards any custom design. Whether for commercial or residential spaces, the scope of bespoke shower enclosures can be nimble, with polished steel rods, hinges and fixings with clear glass and a glass door. A more ambitious look would include tinted glass with gold-plated fixings on a sliding glass door system, attached at the top with a matching steel rod fixing and topped with antique printed glass wall cladding.
Get the SUN STUDIO advantage - choose one of London's leading bespoke shower enclosure suppliers to get expert service and quality guaranteed for less.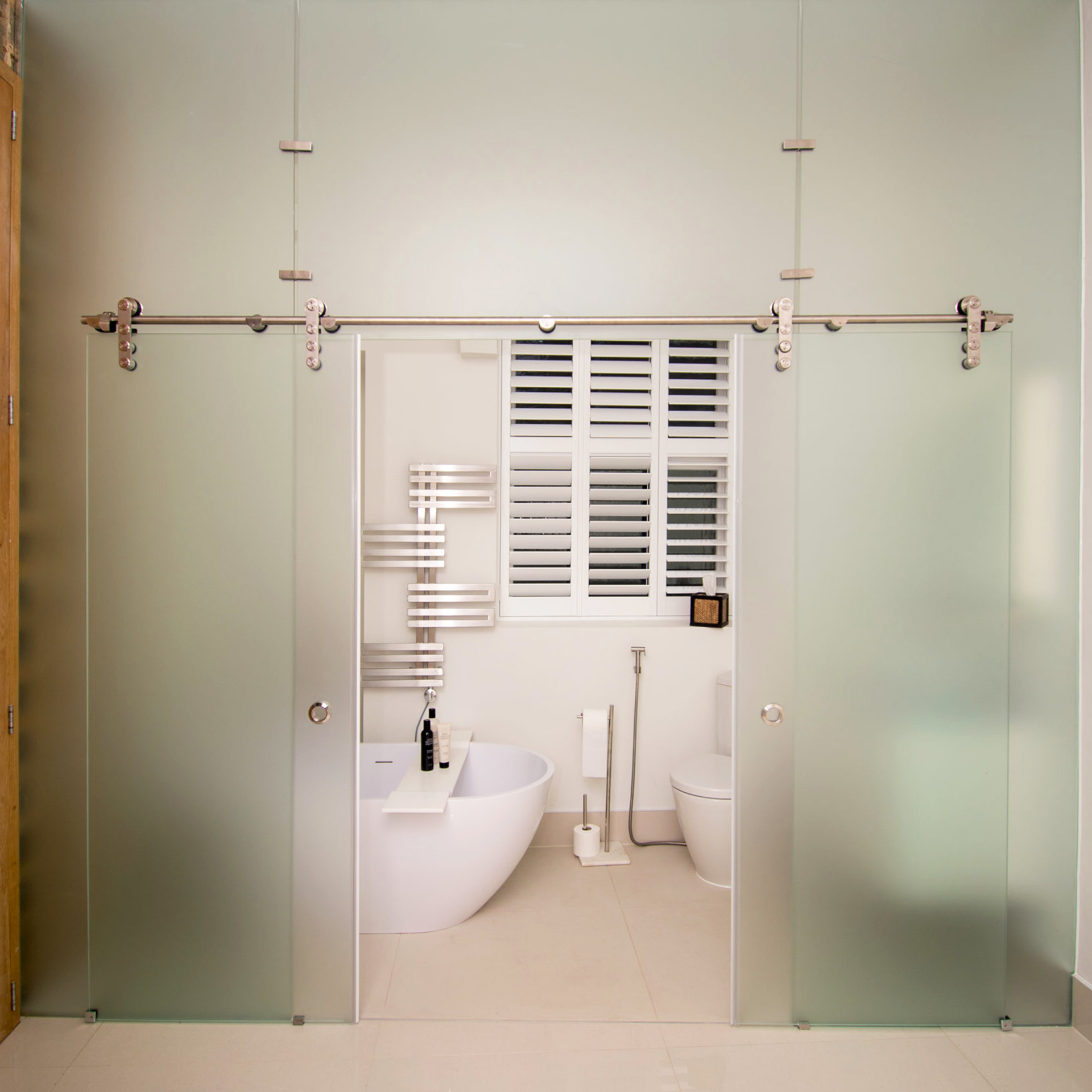 Benefits of our Bespoke Shower Enclosures?
Given that glass shower enclosures can consist of anywhere between one to four free-standing partition angles, there are many possibilities towards how such shower enclosures can occupy a space. While some lofts may find the three-sided glass shower enclosure to be optimal towards the spacial and aesthetic requirements of their interior design, it so happens that the more unconventional the design idea, the bolder and more effective it can be. With our team of professional glass cutters and fitters, as well as our in-house design and engineer team, we are able to ideate and provide the optimal shower enclosure solution for your property.
The ability to print our toughened glass panels ensures that not only do our shower enclosure clients have satisfaction in the practical function of their bespoke shower panels but they also have something that is uniquely theirs. Whether printing glass panels would include printed elements or not, the glass shower enclosure can be fitted with back-lit glass wall panels and even bottom-lit glass partitions. When paired with tinted glass panels, truly breathtaking designs can be made a reality.
Why choose Bespoke Shower Enclosures?
Because showers, as well as bathrooms and the spaces in which shower enclosures are found, are cleansing areas, they can be served best by a design that complements their intention. The bespoke element is not limited only to the design of the enclosure but to the functionality the doors take on. Some showers are best suited as open glass enclosures with an open side so as to not block access and let the elements in. In both rural and urban areas, the transparent, as well as translucent, nature of glass can be fashioned to let the view in or to allow a play with obscuration. In fact, frosted glass panels are an effective way of letting light into the sides of the shower enclosure while maintaining a degree of privacy.
However a bespoke shower enclosure is designed, it can be sure to leave a lasting impression in a place that is both comforting and sensual. As such, to leave a personal mark, with bespoke solutions, is well-suited towards getting the most out of shower enclosure design.
Email us: sales@sunstudio.london
Call us: 020 3916 5610